Dear Jamie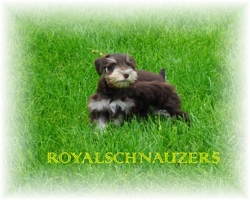 After 10 days we are still in non belief about our precious little Heffner (Lucky). He is the most adorable little guy and he certainly has been raised in a loving family atmosphere by Jamie and her family. Heffner is a confident, proud, handsome little man that is going to turn out to be a perfect gentleman. Heffner prances with his head held high and is not scared or skittish of things. From the vacuum to the big city noises of Vancouver, B.C. he is at ease. He is socializing with others but he knows who his owners are and always keeping close to his pack. At almost 15 weeks, he knows how to sit, lay down and fetch. He is being trained on a daily basis and he will be going to puppy obedience next week. Everyone he encounters wants to take him home with them and the comments that we get about his looks, hair cut that you gave him, and colour are amazing! He has fit in to the family with ease and our precious female pug adores, protects, plays and cuddles him. Again, thank you for such a wonderful, loving, attractive Schnauzer and always answering our questions and taking such great care with your dogs.
Cathy, Gail, Bella ( the pug) and Heffner
VANCOUVER, B.C. CANADA
---
Dear Mamas Paisley and Jamie: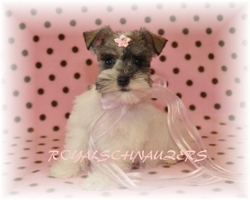 What a long trip Dad and I took yesterday. I did good, though, I held my pee pee until I got on my new mama's kitchen floor. She didn't care, she tried to get me to go outside half a dozen times, but I tested her out to see if she would be mean. She wasn't, just proud to have me go. And I refused water all day and night to make her put my raspberry in it. She gave me bottled water and everything, but I had to teach her to put the good tasting stuff in it. I am rewarding her by chewing on her fingers, nose and computer. Last night, however, I gave her so much love she is now putty in my hands. Ah, it's going to be a good life. She found my first clothes and I let her put them on me. What a nusiance. Next she said she was getting me a buggy and anything else I want. I eat out of antique dishes and I'm showing her how good my appetite is. This is going to be EASY.
Now, I have a big sister, and I do mean BIG. I snapped at her just to put her in her place and she stays clear of me. She's nice, but I have her under control. She's a huge chicken, but she protects Mom and me with a large loud bark. The geese are landing on the lake and coming up here, but Bella scares them off. Oh, did I tell you I have a beautiful home on a big lake? I just might go for a swim. lol Probably won't, she would likely make me wear a swimsuit. I'll keep you posted on my progress of getting my new mom shaped up. She's a little sad and apologized and cried a little because I don't have a dad. But she said he bought me for her before he went to heaven. BOUGHT???????? Did you sell me, your daughter. If you sold me into slavery, this deal is a cinch. Will write later. I love you and won't forget you.
Billie (and new owner Nancy)
ARKANSAS
---
Hi Jamie!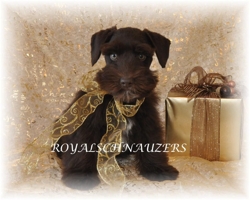 I hope all is well! Just wanted to share how much we love this dog! Not only is he simply gorgeous (everywhere we go EVERYONE just melts at how lovely and unique he is) but he is one of the sweetest AND smartest dogs I've ever known—so beautifully socialized and patient and eager to please! What a love. My daughter is smitten, my husband is charmed, and my two-year-old son alternates from safari spectator to lion tamer—"Jacob" taking it all in stride. I can't begin to describe how integral he's become in all of our lives in such a short time.
Thank you! Thank you! Thank you!
Dani
FLORIDA
---
Royal Schnauzers,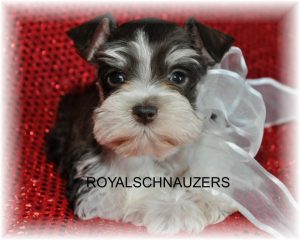 I would like to take this opportunity to write and thank you for the four puppies we have bought from you. Delilah, Bella, Scooter, and Stickers are best friends for my four kids! Your facility is top notch and your dogs are all very happy and well taken care of. I am always amazed at the length you go to for your dogs and the time you spend socializing and training is fabulous. We will always go to Royal Schnauzers for our next pet.
Thank you,
Meghan
Lucky7Schnauzers
UTAH
---
Jamie,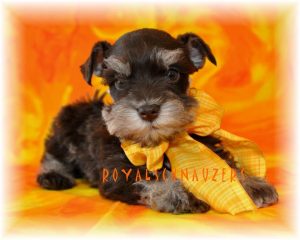 My first impression was WOW!!!!! OMGsh… I made a big fool of myself gloating over him for a few minutes at DFW airport at Delta's pick up desk-counter. He made the long airplane flight from UT to Texas without any problems. Then we spent some time getting to know each other in the airport parking area under a shaded tree. Where I took his first picture. Right off the bat, Snickers greeted me with loving kisses that's when I truly knew he was a well socialized puppy and given special loving care. Then he drank some water and ate a bit of your special blend kibble mix you sent with him. After about twenty minutes of getting to know each other we loaded into the car for another three hour trip home. He did fine on the car ride as well. Once we were home he check out the backyard for a well needed potty break. He came in and was full of energy so excited to check out his new home and ran over the house. He really has adjusted to his new home in Texas without any problems. He is truly a Royal schnauzer. He is playing a lot with his new toys, eating, drinking well using puppy pads. What a very smart little boy! He really likes those new no stuffing Fox and Raccoon toys.
Thank you for a healthy, wonderful, well socialized and loving Liver/Tan schnauzer puppy.
Joseph
TEXAS
---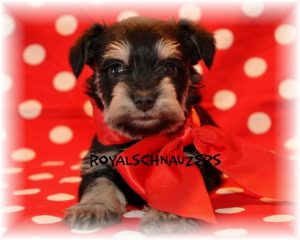 We are ecstatic about our puppy, Royal Maximus Decimus Meridius or just "Maximus." He is sweet and he is beautiful! When we take him out shopping with us, people actually get their cameras out, take pictures of him, and want to take him home….he is a little celebrity! We were so fortunate to have found Royal Schnauzers. Jamie has been so good to us by answering questions, keeping us informed on Max's progress from birth…and sending darling pictures of him so we could watch him grow and progress. She has been very thorough and efficient with all of his documents, shot records, etc. She truly cares about what kind of home her puppies are going to. He is 8 weeks old now and we can't imagine life without this little guy!
Thank you Royal Schnauzers!
Kathy
CALIFORNIA
---
Hi Jamie,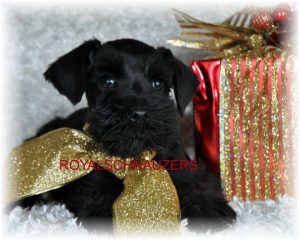 Yes he made it just fine. What a love bug! I wouldn't change one thing about him, He has all the three H's… Happy, Healthy and Hungry. We ate, drank, and played for about an hour. He's finally is asleep. I put him in bed with my husband for a few miniutes and he just scooted up really close around my husbands neck. I think my husband will have a bed partner again. I will keep in touch to tell how he is doing.
Thank You Very Very Much,
Debbie
CALIFORNIA
---
Miss Jamie,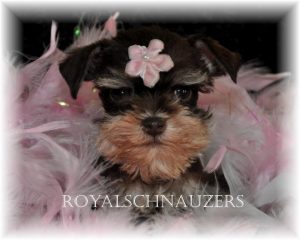 We wanted to give you a personal update.
Katja and Bettina are getting to know one another…Katja neither is intrigued nor scared of Bettina – Bettina is a little hesitant, all-the-while keeping a close eye on Katja at all times 🙂
Katja is eating healthfully and has even give some mild interest in checking out Bettina's kibble.
She has gone potty all but one time outside.
Katja is much loved and the girls barely leave her alone enough to have free playtime.
A bit short on time today – but wanted to drop you this quick note. 😀
More later,
Randy and Kim
ARKANSAS
---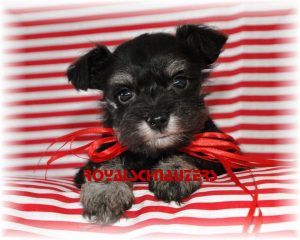 Having had Schnauzers all my life, even raising one litter, I know the love & labor involved in producing a healthy, well adapted pup.
Zeus came to me at 8 weeks, so well adapted & healthy. He has been handled, loved, played with, which is so important in developing a good pet.
This little boy hit the ground running & playing. He is very affectionate, yet independent to play on his own. He has slept all night, there has been no whining & its apparent that housebreaking had been started, we haven't had an accident yet.
His build is a true schnauzer & I can't stress that enough. The quality behind him is there.
I really enjoyed working with Jamie & should I want another baby, I will go back to her. She is doing it right.
Sincerely,
CJ
OKLAHOMA
---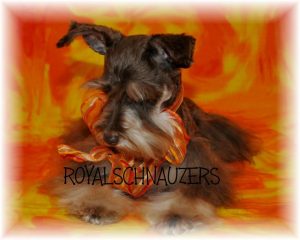 Jamie,
Such a wonderful dog! Thank you for everything!
Thank You,
Sydney
TEXAS
---
Jamie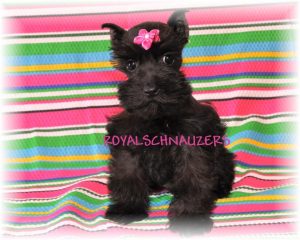 Lexy came at a time when I needed her the most. I lost a close girlfriend the morning Lexy flew into Vegas. She has definitely brought joy back into my life! I have to thank you (family included) and all the hard work you put into these puppies. I bought a puppy apartment from Modern Puppies (potty training for puppies) and it was like she already knew how to use it. I've been blessed. She loves car rides, Dr. Oz the T.V. show and everyone she meets. I took her straight to the vet after picking her up at the airport and she walked around the place like she owned it (priceless). Dr. Cantwell her new veterinarian just loved her to death. Got a clean bill of health. That night I put her in my lap to check my email and she put both paws over her eyes and keep them there to let me know it was time to go to bed. I love her so much. I think she will be training me instead of the other way around.
Thank you,
Tiffany
NEVADA
---
Jamie: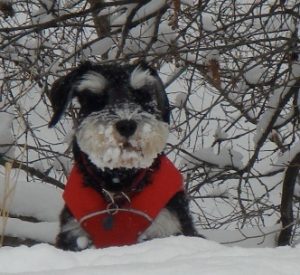 Oscar came into our lives just as winter was settling in. The fact that he already knew how to use a dog door made house training a breeze. To this day he has not had an 'accident' inside! Oscar is a charming and social puppy with a beautiful coat. We love taking him out for hikes in the mountains and playtime at the dog park. People are always commenting on his stunning markings and lovable nature. His quiet yet playful temperament make him the perfect office companion, and all of my clients marvel at how well behaved he is during conference room meetings.
Thanks,
Brent + Pip
NEW ZEALAND
---
WOW Jamie: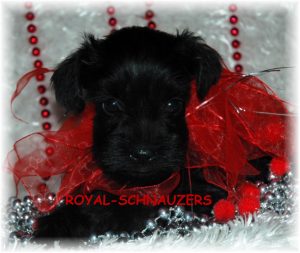 I can't say enough about what a special boy Samson is! He is turning out so beautiful and such a loving personality. He is definately a conversation starter when people come over! He is so smart and it is amazing how quickly their unique personalities develop. He knows when it is time to eat, go outside and even where his treats are. lol I bribe him and Lilly with treats when it is time to come in from playing outside. And of course now I have two dogs sleeping in our bed but they are wonderful. I can't thank you enough for having such a loving touch with your babies.
Thanks again,
LaDonna
OKLAHOMA
---
Jamie: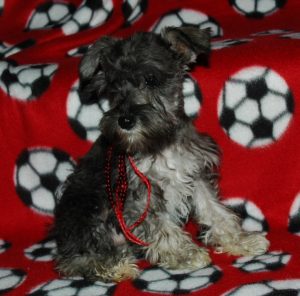 We decided to keep Phoenix, but spell it differently; Feenix. His registered name is "(Royal) Feenix a paragon of rising flames." I got it from the meaning of his name. He is doing wonderful… I am so impressed with his demeanor and personality and just how calm he is compared to most puppies. I give you and your breeding techniques credit for that. I have so many compliments on him when I take him places. He has gone to Petsmart several times among other places. I even bought a "doggie purse" for him. He is still getting used to being in it. He is so quiet while in the purse that other people probably do not even realize it. I have not found one person that does not like him and think he is adorable. I even recommend Royal Schnauzers to people when they ask where I got him from. He has most certainly been an ice breaker and conversation starter. Many people have told me that we will love having a schnauzer because they either had one or have one and they are wonderful dogs. I could not agree more. I have enjoyed him so much that I have been trying to talk my husband, Stephen, into getting a female teacup/tiny toy in the future. I just can not say enough good things about him. I honestly did not think I would get this good of a response from family and friends and they have all surprised me, especially when they see him.
God Bless to you, Jamie and your family!
Sharon
TEXAS
---
Jamie: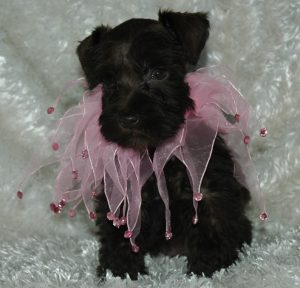 Thank you SOO much for blessing me with another PERFECT ANGEL!!!!
Ghiradelli is SOOOOO SOOO TINY!! She is ALWAYS in my arms and snuggled up to me! I carry her everywhere!! ha ha ha……I think she enjoys the spoiled life and I will give her that for sure. She is doing sooo outstanding on Potty Training. At night I just put her in the X-pen that has her bed, toys, water, food, and 2 huge potty boxes. Then during the day she is always with us. So it's working out sooo nicely and she is sooo dang adorable!!!
I am SOOO in LOVE, LOVE, LOVE WITH MY GIRLS!!!!!!!! I can't thank you enough for blessing me with the 3 of them!!!!!!!!
Niney
SpoiledRottenSchnauzers
UTAH
---
Jamie,
Taboo arrived in the middle of a cold October rain and was cold and wet. I took him out of his kennel and he rode all the way home in my lap totally exhausted! That was the last time I have seen the boy sleep! Boo Boo is as cute as he should be and those eyes just melt your heart no matter what he may have gotten into. The pictures you sent before we received Taboo made us feel like we had known him from birth. I will definately purchase another dog from Jamie again!
Court
TENNESSEE
---
Jamie,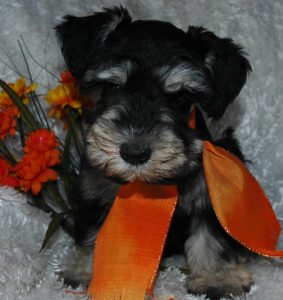 It's JC in Cedar with Adelaide now known as "Digs" (Justin named her Royal Hot Digity Dog). Just wanted to send you a couple cute pics! My 4 yr old Marshall thought it would be a good idea to put her in the tub with him. By the time I caught them there was water all over the bathroom! She is in love with my baby Tommy and even crawls in the car seat with him and goes to sleep! She is sooo patient, with the baby especially. I call her my little momma. We absolutely LOVE her and you probably haven't heard the last of us! Keep us in mind the next time you get a platinum silver toy boy! Thanks so much!
JC
Utah
---
Jamie,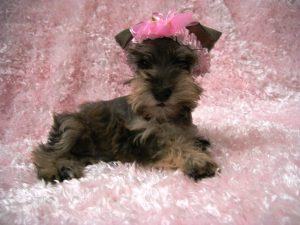 I cried when I saw her! I have had a non-stop open house all day. NO KIDDING!!! I feel like I just came home from my 1st born birth! Some Friends and family drove over 45 minutes to come! She is everything and more! My dog Doodles loves her and Doodles is a giant! She is finally, poor thing, getting a quick nap. She has been following me around everywhere. I have pictures of her eating for the first time, sleeping, etc. Her favorite thing so far has been her car seat! It puts her right to sleep. I LOVE HER!!!!!!!!! Thank you
Lisa
MASSACHUSETTES
---
Jamie,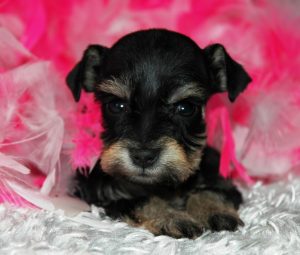 Koda-Brooke is now seven months old and weighs 5 pounds. She has remained very quiet because of the great job you and your family did socializing her in her first few weeks of life.
You did an excellent job helping us with the difficult job of picking the puppy from Candie's litter of seven. You had Koda well socialized when we picked her up and she has remained that way. She travels well and where ever we go people just fall in love with her.
Please give Candie a special hug and thank you for us. She is a great mother.
Lee & Helen
UTAH
---
Hi Jamie: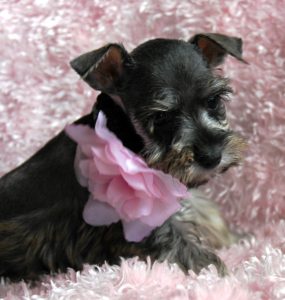 I just wanted to let you know J'adore, whom we are now calling "Olive" is doing Great.
We love her and already miss her whenever we are away from her.
I will send pictures of her very soon.
Thanks so much for all your time and love in making such a precious little friend.
Kelley
SOUTH CAROLINA
---
Jamie: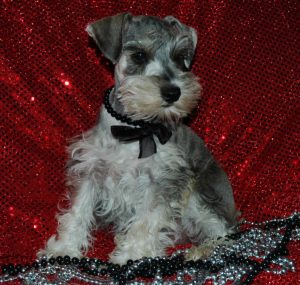 I wanted to thank you again for blessing us with little J'espere, who my son renamed 'Gogi.' He is truly a one a kind pup, and it seems as if he was especially made to fit perfectly in our little family. I find it so amazing the loyalty little Gogi has shown to my little boy since day one. He is always looking out for his little buddy, and in the few times I have seen my little boy get a little rough, Gogi seems to understand and is so gentle and patient with him. He is the sweetest pup I have ever met, and we love him tremendously. Thank you for everything, and your kindness in bringing our newest member of our family home.
Love,
Melanie
UTAH
---
JAMIE,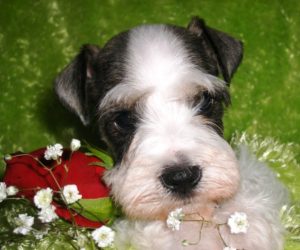 We wanted to tell you how much we love and adore our baby boy, Tome and baby girl, Tiki!
We love them so much and they are having a ball with each other. They are just what we ordered and much more, Tiki is just what you said she was and Tome is quite the little man and so handsome and looking more like his Daddy Zumie everyday! And Tiki has the sweetest face and eyes of her beautiful mother Paris.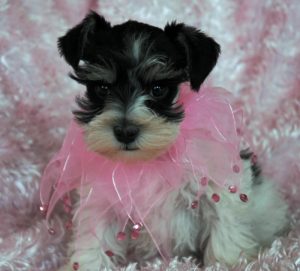 We just appreciate you so much for making it possible for us to follow their growing from day one up to the day they were put on the plane for Houston, Texas! We especially want to thank you for having all those great parents of these little dolls for people like us to love and enjoy, as it makes our hearts sing. Tome and Tiki are the Stars here at the office, as well where ever they go. It has been a great pleasure knowing people like you, Jamie and I hope one day we will drive up to see you as you are a very special person to us! Thank you! Thank you!
Much love
Dee & C.J
TEXAS
---
Jamie & Family: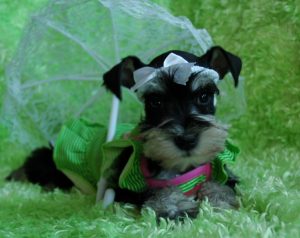 WOW!!!!! What an incredible little girl you have blessed us with. Her first day was very eventful. She went shopping, acclimated to her new home, ate all of her food like a good girl, played, napped, and went potty every time outside!!!!! She got to meet the neighbors, from afar, and when the day was done she slept the entire night without a whimper until six o'clock this morning. We love, love, love this little girl. Thank-you for the excellent breed you have brought into our home. She sends her love and kisses.
Dean & Paul
UTAH
---
Jamie,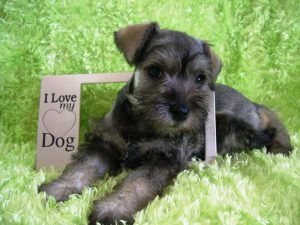 I have to tell you that when we are out with Jabi everybody talks to us and tells us how cute he is. Of course nobody thinks he is as cute as we do (he he).
Kind Regards
Megan
MARYLAND
---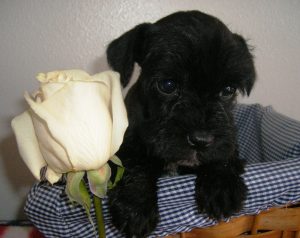 Hi Jamie:Just wanted to let you know that we made it home. It was not too bad, just several stops to go potty. I think she was a little overwhelmed after we stopped at my son's and then my daughter's apartment complex.  Now that we are home she is settling in nicely, getting a little more adventuresome each day. She really is a cute and sweet dog. She whined a little bit the first couple of nights, but I would say "It's alright Greta, we are right here." She would stop quickly and settle down. The training you had started with her has been great and has made the transition very nice and easy.
Thanks,
Brenda
NEVADA
---
Jamie,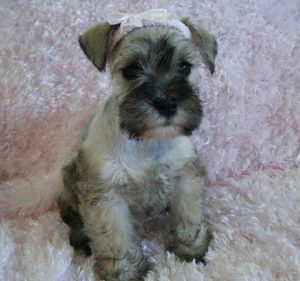 The girls are already playing with the mountains of toys we bought them. They are so good they already went outside to potty and they don't seem to mind the collars and leashes. They are adorable and we are already in love with them. They love their crate. It's really big and furnished with a comfortable bed, toys and two soft baby blankets. They are very quiet… Zoe let out a few barks in the car and Addie barked a couple times outside when they were running around together. Thank you so much for loving the puppies the way you do. One can tell that they are used to people and children. We feel so lucky!
Teresa
TEXAS
---
Jamie,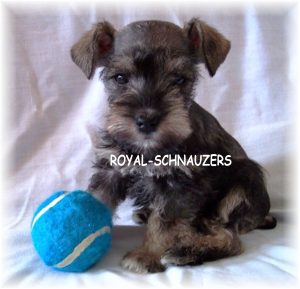 I'd love to bring Dash up to see you. He is such a pretty boy, and so so sweet! Everyone loves him in the neighborhood. He loves kids and other dogs. I walk him in the evenings and he is a social butterfly. His markings and coloring are stunning (charcoal with silver/white), so he gets lots of compliments. I love his conformation, too, but the highlight of owning him is his personality. I think his start with your kids loving him has made him the perfect pet for us with 21 grandchildren to love. I tell anyone who is looking for a family pet to consider a schnauzer, and if they decide on a schnauzer, to call you first.
Jo
UTAH
---
Jamie:
I wanted to let you know that Paisley is doing great! She did really well on the ride home and slept through the first night. I would imagine she was exhausted from the trip to her new home. She seems to be adjusting to her new home very well! Our cat doesn't seem to be adjusting quite as well. It is going to take some time for her to be happy about our new family member. The kids just love her! They have enjoyed showing her off. They have a hard time leaving her alone long enough for her to nap. She is such a little sweetie and we are so in love with her already! Thank you for such a great puppy and all of your support through the process of getting her. We would highly recommend 'Royal Schnauzers' to anyone who is looking for a great schnauzer.
We'll be in touch,
Holly
WYOMING